2017 Bury St Edmunds
Race walking > Race results > Centurion race results
5th - 6th August 2017
St Edmunds 100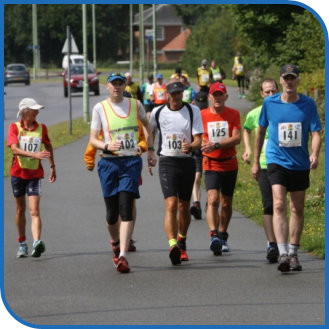 The 2017 qualifying race for the British Centurions
.
Held under R
WA rules and

organised by Centurion Kevin Marshall of Positive Steps. Co-organiser: Sue Clements
Race report (by Kathy Crilley C933 Captain, Centurions)
The event was held around the Moreton Hall estate on the outskirts of Bury St Edmunds on cycleways and pavement with good surface with a loop of 2miles (3.231km.) For a sunny weekend, it was remarkably quiet. The residents out walking their dogs were curious - which turned to increduality when told it was a series of 100 mile, 50 mile and 20 mile races.
From 9am on Saturday morning, the area designated for the support crews, gradually filled with an array of tents of all shapes and sizes. Even a camper van managed to get onto the grass verge.
The rain stayed away which meant we could set up camp in the dry, but come the start of the 100 miles race at 12 noon - it rained! Yes, it is England in the summer, so what else can we expect?
The field of walkers came from not just the UK - inlcuding the Isle of Man, but also from Australia, Holland, Belgium and France.
45 walkers entered the 100 miles (12 noon start)

3 entered the 50 miles (15:30 start)


19 entered the 20 miles - this race was also designated the BMAF championship (16:00 start)
The 100 milers went off (in the rain) and the 50 and 20 milers went off in search of food! The rain came and went... but luckily it stopped in time for the 20 miles... and stayed away for the remainder of the 24 hours. The afternoon and early evening was warm - getting close to being hot... but the night time was particularly cold. Well enough of the weather....
It was diffcult to work out who was in the lead 4 hours into the race (start of the 20 miles) as there was no leader board. Only a whiteboard which indicated the number of laps completed.
Belgian walker Guido Vermeir (C.1099) appeared to be having a good race (as he lapped me, time and time again ..) and in good spirits throughout. Which paid off as he was first over the line in 20:39:35.




Justin and Sharon Schultz (AUS), Centurions on many contintents, but first timers in the UK - walked together, and obviously knowing each others strengths and weaknesses were the first new UK Centurions and finished 2nd and 3rd in 21:04:53 - just milliseconds apart.



And yet another Belgian took honours as 4th over the line. Centurion 1148, Peter Asselman in 21:11:07.

UK pride of place and RWA Champion was James Bassett (Manx Hariers, IoM). James has competed in the IoM Parish Walk which must be good training for a 100 mile race on the flat

Sandra Brown, well, was just Sandra as ever... steady performance throughout coming in 6th overall and second lady in 21:44:15.

Previous winner coming in 7th was C.1022 Frank van der Gulik from Holland. Time 21:56:14.

8th place went to C.1139 Chris Van Cauwenberghe (BEL) in 22:19:25. Post race note: Chris walked the 100km Dodentocht just 5 days later completing in 14h:43m. Wow.

9th place was C.1142 Jack Bartrums (NED) in 22:20:42


10th place went to newcomer to ultra race walking - Hardeep Minhas from Leicester WC. What a walk that was for Hardeep - he looked strong throughout. Hopefully we wil see him again in future 100s. Hardeep finished in 22:37:59 to become C.1776.

Joyce Crawford was third lady - finally making the 100 miles in 24 hours with some 17 minutes to spare. Joyce was heartbroken (well, we all were) having narrowly missed out at Southend in 2015 by 0.5 of a mile. How cruel is that. Joyce had an amazing team of supporters - very vocal. But they supported and cheered all the walkers which was most appreciated.



S

o, not many Brits in the top 10 this year. But overall, a very impressive race
.

As Captain of the Centurions, I am so pleased to welcome 15 new Centurions. As ever, I am always so totally overwhelmed that walkers (from wherever) are driven to strive to walk 100 miles in 24 hours.
The course: well some thought it was tough, and as ever, even the slightest incline turns into a mountain after 20 odd laps (or even aftert 10 laps!!)
It was, though, a nice course, traffic free, however, the broken tarmac on part of the course did play havoc with existing blisters, not to mention a bit of tripping up, especially in the dark.....
Commiserations to those who travelled to Bury St Edmunds with great expectations, which sadly did not materialise. 18 walkers did not make the 100 miles.
Oh so close was Marco Bloemerts (NED) who had to pull put just a couple of hours before the end having completed 47 (out of 50 laps). But as we all know - we have to listen to what our body tells us.
Last years UK Champion, Colin Vesty C 1167, had to pull out through sickness. But knowing, Colin, he will be back!
50 miles
Only 2 walkers turned up at the start for this and happy to say, both won their event!
New Zealander, Richard McChesney (NZ and UK Centurion)10:24:48.33 and Ilonka van Bemmel from Holland 12:58:09.06
20 miles
A good entry for this race but two walkers dominated.. - Dutch walker Robert Tersteeg and UK vets and Centurion C.1064 Ian Richards from Steyning AC.