Jack Butler C2
Olympic walker, late 19th century and early 20th Century record holder and winner of the classic London to Brighton race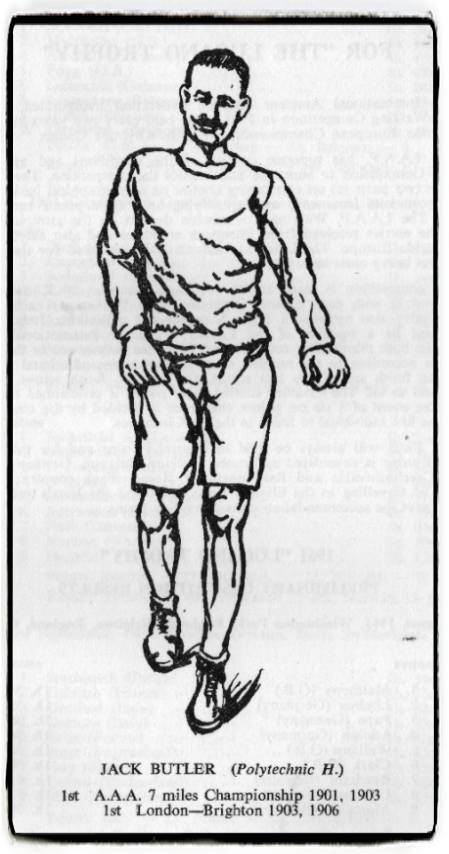 John "Jack" Butler
(1871 – 3 October 1959) British racewalker.
Affiliations: Herne Hill Harriers, Mitcham (GBR) also Polytechnic Harriers
Country: GBR Great Britain
After placing second in the AAA (Amateur Athletics Association) 4 mile walk for three successive years (1898-1900) Jack Butler was the winner of the 7-mile walk in 1901 and 1903.
He was at his best over longer distances than those in the Olympic programme, and was the winner the London-Brighton-London walk in 1902 and the London-Brighton walk in 1903 (Centurion qualifying races)
In October 1897, h
e broke the British record for every distance from 14 to 21 miles (20 miles in 2-49:26) and in June 1905; again in one race, he added the records up to 50 miles (7-52:27) also set records for all the hour intervals from four to eight hours.
Personal Bests: 7 mile walk 52:58.0 (1902); 10 mile walk 1-17:30.0 (1905).
[reference: sports reference website]
Jack competed in both the mens 3500 metres walk and 10,000 metres walk at the 1908 Summer Olympics
and
came 5th with a time of 16:17:0 (see results below)
He competed in Round 1, Heat 2 of the men's 10,000 metres walk
,
but did not finish.
results from 1908 Olympic Games