Paddy (John) Dowling C331
Paddy qualified as a British Centurion in 1962 with a time of
22.09.27.
The information below is taken from Running in Cork blog, posted by John Desmond, Wednesday, November 18, 2015
Born in 1929 in Tramore, Co.Waterford, Jack Dowling had a tough childhood. As an adult, he moved to Sheffield in England in the 1950's to work in the coal mines. While there, he took up running at a local athletics club and then made the switch to race walking, a sport in which he flourished.
He became famous in France for his success in the Paris – Roubaix race walking challenge and walked in the Race of the Century, a 1,000 mile event in New York in 1988.
Paddy also made history back in 1982 when he race walked the length of Ireland from Malin to Mizen. After starting on the 18th of March at Malin Head, he finished in darkness at Mizen Head in West Cork on the morning of the 24th of March. He had race walked "under supervision" the 644km (400.2 miles) in five days, 22 hours and 30 minutes. That's an incredible 60-70 miles per day.
Here are a few of his records:
1,000 miles / 1000 kilometres / 1500 kilometres / 3 day track record

6 day track record *
100 miles in less than 24hrs (completed over 70 times)

Won the first British Veteran 10 km Championship road walk

Roubaix 28hr race: 1st person to complete 10, 15 and 20 times

5 x Rouen 24hr race, at which the best distance was 207 kilometres


Entries in the Guinness Book of Records

Completed the John 'o' Groats to Lands End and is the only person ever to race walk end to end on both Islands.



*
Paddy held the 6 day record until 2015 when Dominique Bunel (FRA) broke the record at the 6 Jours de France, Privas
.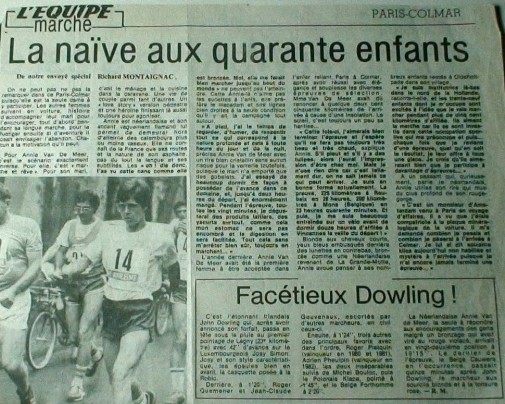 After his 1969 Centurion performance of 19:27:31, he was selected as part of the British team which contested the 1969 Roubaix 28 Hour walking classic. As this was one of the official qualifying opportunities for the 1970 Paris-Strasbourg classic and his Roubaix performance was over the requisite qualifying standard, he was duly invited to walk in the 1970 classic.