New Zealand Centurions
Race the World
T

he New Zealand Centurions, full name New Zealand Centurions Endurance Walking Club, is a young organisation, having been founded on 29th November 1998.
As well as recognising Centurion status, the New Zealand Centurions also recognise the achievement of walking 100 kilometres in 14 hours 30 minutes.
Like many other national bodies in New Zealand representing minor sports, they are currently looking at ways to attract more people to centurionism and ultrawalking. One possibility being considered is to recognise other achievements such as walking 80 kilometres in 12 hours or 40 kilometres in six hours - two achievements recognised by the Australian Centurions.
They do not usually organise their own events. Instead, members enter events put on by other organisations, mostly the New Zealand Sri-Chinmoy marathon team.
The 3 day (72 hours) record holder is Richard McChesney who completed 283k599m in Privas ( 6 Jours de France) 2015. Richard is also a British Centurion (Southend 2014)
The 2020 race took place in Auckland on 14th-15th November - later than usual and almost cancelled at the last moment due to the Coronaviris restrictions. But it did go ahead and as usual the race walk and qualifier for the NZ Centurions was held in conjunction with the Sri Chimnoy running 24 hours. Philip Sharp, as usual, was the race walking judge.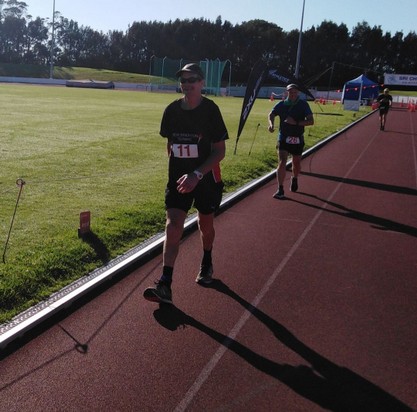 Philip's report:
I judged the full 24 hours. Except for the 22 degree temperature on the Saturday, the weather was very good - no rain, and little to no wind.
There were three walkers in the 24 hours and one in the 12.
M60 NZ ultrarunner
Richard Young from Christchurch became a NZ centurion, reaching 100 miles in 22:57:55.
The photograph shows Richard just after sunrise today. Richard walked the 24 hour run last year and I suggested he try the walk this year.
Wellington F60 racewalker Terri Grimmett started well but after about twelve hours started learning to the right from the waist. The lean increased and her hip became sore. Her lap times slowly crept up. Once they were above six minutes, she wisely decided to stop, having covered 92.8 km. I have no doubt she can go a lot further in 24 hours.
The third walker in the 24 hour was Craig Welsh. He had done no training and did not expect to go far. This proved to be so.
2006 Commonwealth Games 50K silver medalist Tony Sargisson was the 12 hour walker. I believe this was his first ultra. He started as a man on a mission, lapping in 2:20. Things did not go to plan. He develop two blisters and blood started accumulating under two toe nails. He stopped just after six hours, having covered 54+ km.
Congratulations to Richard Young - the latest NZ Centurion!
Philip gave a good insight (on Facebook) to organising events in New Zealand
"There is very little ultrawalking done in New Zealand for which running it not likely to be mixed in with walking. There is the 6-12-24 hour Sri Chinmoy festival I have just reported on. Most years there is a 25K / 50K / 100K Sri Chinmoy running event in Christchurch. Few walkers enter these events and it is not judged. The event was cancelled this year because of Covid-19 3.
Race walking in New Zealand is a separate discipline with its own national organisation, and its own website and reporting of results.
You might argue that the New Zealand Centurions Endurance Walking Club (NZCEWC) should be doing more to promote ultrawalking in New Zealand. I agree that is a possible argument. However, for at least the last five years the NZCEWC has been me. I am the only active member. If there are any expenses such as for the hosting and domain registration of the website, I pay them. If there is judging to be done, I do it, sometimes with some help from my partner, not this year. If there are queries from overseas, I answer them. If there are reports to be written, I write them. I realized five or so years ago that if New Zealand was to remain as a country that offered the centurion designation long-term it was probably going to be up to me.
Centurion is not my main leisure actively. For that activity, I am the secretary of four local clubs, I chair two international committees, and I write two newsletters one of which involves me driving hundreds of kilometres every two months. That leaves me with little time for supporting and promoting ultrawalking. But I am committed to keeping the NZ centurion qualifier going."
Clearly we have a lot to thank Philip for. Philip maintained the "old" NZ Centurions website (NZCEWC) which was updated and completely transformed in 2019. > New Zealand Centurions website
The 2019 race took place in Auckland on 28th-29th September. The race walk was held in conjunction with the Sri Chimnoy running 24 hours.
Kim Janssens (BEL), pictured below,was the only race walker in the race and was successful in completing 100 miles (actually 161.6km) in 22:33:40. Kim is now NZ

C27
.