Tributes to Centurions
Centurions who have passed away will always live on in our memories.

These pages are dedicated to Centurions around the world, their achievements of walking 100 miles in 24 hours and the contributions the have made to the world of race walking
Derek Harrison died Friday, 16 August 2021 at the age of 86. He was a true legend of Manx athletics, and in his heyday he was one of the greatest long distance walkers in the world.
Derek qualified as a Centurion in 1971 at Surrey Walking Club's Ewhurst 100 with a time of 19:34:35 and was a member of Boundary Harriers, Isle of Man.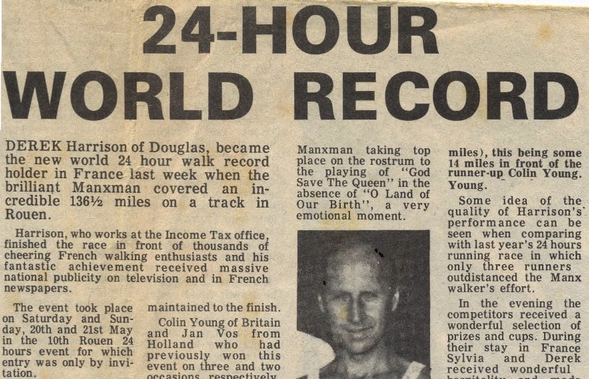 In 1976, Derek competed at the Woodford 24 hour track race with a finishing distance of 211.13km -(131.21 miles)
intermediate distances: 150km -16:15:07 ; 200km 22:38:35. A new 24 hour track record.
Derek went on to better his permance two years later in Rouen (FRA) where he completed the 24 hours road race in 219,570km (136.43 miles) - to become the new world record holder.
Derek also competed in the many long distance walks on the Isle of Man:
Manx Harriers website End to End 2005: "
Parish Walk record holder Derek Harrison, 11 times a winner of the old east coast End to End walk, made an amazing comeback after a serious stroke."
Derek Harrison's record time of 15:20:21 set in 1979 stood for 27 years until it was emphatically broken by

Sean Hands

in the first sub 15 hour time of

14:47:36



Dave Griffiths writes a tribute to Derek - posted on Facebook (23 July 2021)
In addition to these accomplishments, Derek still holds Isle of Man track records for 150k, 100 miles and 200k, these being split times recorded during the Woodford Green race in 1976. He set the 100-mile road record at the National 100-mile Championships on a route from Leicester to Skegness in 1976, a record subsequently beaten by John Cannell. He represented the Isle of Man over a shorter distance of 20 miles in the Commonwealth Games in Christchurch (New Zealand) in 1974.
In 1979 Derek set the Parish Walk record of 15 hours 20 minutes and 21 seconds, a performance that went somewhat under the radar at the time.
Derek was a true gentleman, quiet and modest about his achievements. He was one of the greatest athletes the Isle of Man has known and he will be remembered with great affection and respect by all who knew him
.
Writes British Centurion Dave Ainsworth:
The news we've been expecting from Woking Hospice has so sadly come to pass. Last night Pete watched the football on television (he was a keen football follower) and, after going to sleep, failed to rise this morning - having passed away peacefully during the night. He last days saw him greatly heartened by the receipt of so many messages, letters and cards. Sorry to be the bearer of such sad news.
One never to be forgotten
!
Pete made it to number 3 in the National Race Walking Rankings at 50k with a clocking of 4hrs 18mins in 1982 but be was to leave the sport for about 15years before returning in the late 1990s and achieving some remarkable performances as a veteran on the UK and International stage. For instance, he was twice winner of the walking section of the Honolulu Marathon and broke 4hrs to win the walking section at the Berlin marathon. Yet his most memorable achievement has to be winning the 100 miles at Newmarket whilst pushing himself to the absolute limit and finally gaining international recognition with selection for the English team for the Roubaix 28 hr walk in France.
George Beecham MBE was a Life Member of Belgrave Harriers, a member for 69 years, who s
adly passed away at the age of 89 after a long illness from cancer.
George competed at Race Walki
ng at all distances and was a
winner of the Hastings to Brighton and was also
Centurion 716.
George was well known in Canvey Island for his charity work for which he received his MBE
.
As a youngster George suffered from asthma. When he was eighteen he decided to take up race walking to help improve his health. He had continued doing that and similar activities in a very serious way ever since. As a young man he represented his county of Surrey as well as Great Britain in race walking.
I
n 1957, aged 28, he came third in a Belgian race won by Don Thompson, the only British man to win a gold medal in the 1960 Olympics. The following year he came first in the tough Hastings to
Brighton race which is 38.5 miles over the rolling Seven Sisters hills. When he took part in the London to Brighton race in 1951 he came fourth
.
George scored 3 times for the winning Bels National 50kms team- in 1957 (2nd scorer), 1960 (1st scorer - in 5th place) & 1961 (3rd scorer). He was also in Belgrave's winning team in the 1954 RWA National 20 Miles (4th scorer)
.
Since then he has walked many marathons and in 1981 he first took part in the 24 hour track race at Brighton in very wet conditions and passing the 100mile point to become Centurion 716. in 22hrs 45m 12s and continuing to complete 104m 557yds
.
In later years he was an athletics coach who helped train Commonwealth gold medal winner Dean Macey
George, who had lived on Canvey Island for many years, had worked tirelessly to raise money for charity and promote sport among young islanders.
He was one of the founders of the Canvey Athletics Club, and had run in many London Marathons –
George was born in Hackney in 1931 but moved to Surrey during the Blitz.
He married his wife, Marlene, in 1957 and the couple moved back to London before settling on Canvey in 1963, with daughter, Catherine.
George continued to work as a Post Office engineer, but became involved in the fundraising branch of the Royal National Lifeboat Institute on Canvey and had been chairman.
As well as the marathons George took part in many of the annual Nijmegen, Holland, four-day 200km marches, with up to 45000 competitors, raising funds for Canvey charities, while his marathons have raised thousands for asthma charities and the RNLI.
Despite ill health for many years George has always fought through it with great courage and determination. Although Canvey Island was his home Belgrave was always in his heart.
George passed away 14 September 2020
From Carl Lawton (Belgrave H) : It is with regret that I have been informed, by daughter Wendy, that long time Belgrave Member John Dunsford died on 16 August after a long illness, aged 87. John had been a member since 1970.
He was one of our regular race walking team members throughout the 70's and 80's over all distances, representing both Belgrave and Middlesex. He competed London to Brighton, Hastings to Brighton, Plymouth to Dawlish amongst others and in 1982 became Centurion 734 at his first attempt at the Leicester 100 miles (22:12.40) regularly supported by wife Barbara and the camper van.
In later years he travelled the world in the Vets events.
He leaves wife Barbara and children Jonathan, Wendy and Barbara Junior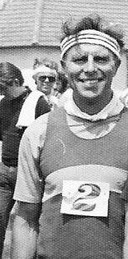 Doug Hopkins C347
1939-2020
Doug died, 6th July 2020, at home after suffering from cancer of the brain and other related causes. He was 81.
He became a Centurion at a relatively young age, Gibraltar champion and several times Kent Champion. At Medway Athletics Club, formally Rochester and laterally Medway and Maidstone AC he served as a initial coach to the most eclectic bunch of walkers as Cameron Corbishley, Gordon Beatie, Di Pegg (Bullard), Steve Holiday, Chris Hobbs, Tim Hayes, Rod Parkins and many others.
Popular Chatham-based Doug Hopkins was Centurion No.347, qualifying when aged 23 in the colours of London Vidarians at the 1963 Brighton-to-London-and-Back clocking 22:24.10. 1963 was the only year where this journey was reversed - starting and finishing in Brighton. Doug was one of 6 London Vidarians to qualify that day. Doug raced for London Vidarians and then Medway AC, which in 2001 was part of a merger which saw Medway & Maidstone AC appear on our scene. Doug put much back into our sport after he'd hung up his racing shoes, by qualifying as a Judge and accepting many appointments. He'd only recently stepped down from judging. He was a loyal supporter of Kent County AA fixtures for decades.
George Audley (C22): 1935-2020
Sadly, I must report the death of another one of our Australian Centurions, with the passing of George Audley (C22). After living for many years in Perth, George had moved back to Birmingham, England, some years ago to spend his remaining years with his family. George passed away on Sunday 28th June 2020 at the age of 84, at home in Birmingham.
Whilst George has now passed on, his memory will live on, both to hs fellow Australian Centurions and to the wider Australian ultra distance community
Deryck Skinner (C51) 1932-2020
Australian Centurion Deryck Skinner (C51), who walked his 100 mile qualifier in 2005 in 22:39:55 at the Santos Stadium in Adelaide. Deryck died in Adelaide on Tuesday 19th May 2020, aged 87.
At 72 years of age, Deryck was the oldest Australian to earn his Australian Centurion badge. He went on to finish 3 further hundreds in the next 2 years and set a series of M70 and M75 records that will take some beating
He will be sadly missed by us all
Sadly, Ann passed away on 15 April 2020 from Coronavirus COVID-19.
Ann has done much for long distance walking over the years through her work for the Brotherhood of Centurions and the UK's
Long Distance Walking Association (LDWA).
After completing a 100 mile walks in the annual LDWA Hundred Ann then sought another challenge - race walking a 100 miles in 24 hours.
Ann's first competative 100 mile was in the Netherlands in 1977 and became Continental Centurion CC36 and later that year, became British Centurion C599 with a faster time of 20.37.14.
Intent on walking even further, Ann completed LEJOG - Lands End to John O'Groats in 1980 creating a new walking record.
Her time of 13 days, 17 hours and 42 minutes put her in the Guinness Book of Records and
she was awarded an MBE for
services to sport
in 2005.
Ann also represented Great Britain in several 24 hour races in France and participated in the legendar
y Paris Colmar race in 1992.