US Centurions
Race the World
The title of
US CENTURION
was introduced in 1967 by the Colombia Track Club when sixty-year-old, Larry O'Neil walked the "100" in 19 hours 24 minutes and 34 seconds. This was an American outdoor record for the distance that stood for eleven years. Thus began the
modern-era 100-mile racewalking championship for America
60-year-old Larry O'Neil, a "lumberjack" from Montana went to compete. He said, "I figured they were handing out six trophies so I could probably take sixth. I just wanted to see if I could do it, go 100 miles."
O'Neil surprised everyone and won - his last lap being faster than his first and established a modern-era American 100-mile walking record. A few days later, O'Neil, with sore feet proclaimed, "That was the last one I'm going to be in." However, he continued to dominate and finished at least six more 100s, including one at age 70 with a time of 21:55:23.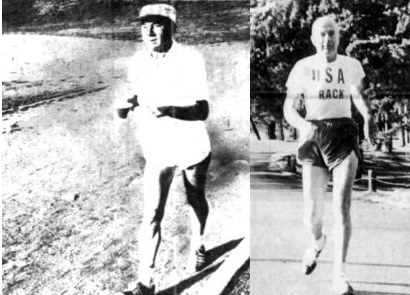 However, the records show that in 1878 three walkers were awarded Centurion status:
The US race venue has moved around the USA over the years - Colorado, Texas, California, Minnesota, New York State....
Over the decades over 90 walkers have achieved Centurion status including many existing British, Dutch, Belgian and Australian Centurions.
Erin and Dave Talcott along with Rob Robertson took over the race organisation in 2016 and the venue changed to New York State.
However, there is a second qualifying race held within the F.A.N.S 24 hour race in
Minneapolis.
As usual, the 100 miler attracts existing Centurions from Europe and beyond.
In 2018 Andrew Titley (100 Miles 22:27:32 Total 106.8 Miles) set a new course record

.
Like so many athletic events around the world, the 2020 US Centurions was cancelled.
2021 Centurion Qualifying Races
Both races plan to hold walks in 2021. F.A.N.S in Minneapolis, Minnesota (early June) and Not Just a Walk in the Park in Owego, New York (late September)
Dates to be announced early 2021
2019 events
Six Days in the Dome
Report from Rob Robertson
What a weekend. I was invited as a Centurion judge for the first 24 hours of Six Days in the Dome, Milwaukee. A six day race. To qualify as a Centurion the walkers had to walk 100 miles in the first 24 hours. Who besides six badge Centurion Australian Justin Scholz would want to do that. We had five walkers. US CenturionsC34 Mario Escobedo, C48 Ivo Majetic. Multi World walking Record Holder Yolanda Holder. Multi day walker Anthony Culpepper, Long distance walker and almost Centurion Bob Davidson.
So here we all are inside a giant ice rink. A three lane track around all of it. Constant 55 degrees. Anthony was a pleasant surprise. Spends his days in the Colorado Rocky Mountains checking trees. Thin air and mountain hiking is good Centurion training. Ivo had stomach problems but vowed to gut out his hundred. Yolanda had one of those late hard up and down races. One hour you are on top. The next hour you think you are not going to make it. An emotional roller coaster.
The result. Three 100 mile finishers.
NEW Centurion C93 Anthony Culpepper 22:11:56.
Centurion C48 Ivo Majetic 22:57:01.
NEW Centurion C94 Yolanda Holder 23:51:32.
C34 Mario Escobedo and Bob Davidson with a great mileage start to their 6 day race

.
US Centurion qualifier in Minneapolis,
June 2019
Report from Rob Robertson 2nd June 2019:
"As a result of spring flooding the United States Centurion qualifier FANS race was moved to Lake Normandale in Minneapolis, Minnesota.
While only ten miles from the traditional site and paved completely around the lake, there were several hills on the 1.85 mile loop. The kind of hills that look like mountains late in the race. 18 walkers signed up for the 24 hour including four U.S. Centurions.
John Green C70, Joe Roche C74, Rob Robertson C78, David Holmen C91.
Rob returned as apprentice judge to Chief Judge Bruce Leasure. David ran with the runners.
Other known walkers were Gertrude Achterberg (NED). Gertrude returned to FANS from The Netherlands, looking to complete her collection of six World Centurion Badges. Experienced long distance walkers Paul Terbrack, Ray Sharp, Karen Kramer. Canadian long distance runner Scott Burton switching to walking this year. Retired FANS race directors Paul & Pat Sackett. Long time distance walker with a new knee this year Dave Daubert. Long time race participant Gene DeFronzo. Judy Altman, Kate Rinke, Kendra Martin, Mike Price and Robert Schnetzler rounding out the list.
The race started at 8am sharp. Early Ray Sharp put on a race walk clinic. Gertrude Achterberg not far behind. By the twelve hour mark only Ray, Gertrude and Paul Terbrack were over 50 miles. Joe Roche and Karen Kramer needing a small negative split for success. The hills and hot afternoon took there toll. At 20 hours only Gertrude had a chance at Centurion. Sadly it was not meant to be this year. No New United States Centurion.