Welcome to the website for Centurion race walkers worldwide
A website for all Centurions race walkers around the world and for anyone with the common interest of walking long distances.
Plus information on all the worldwide Centurion organisations brought together in one website along with latest news and results from the many ultra race walks around the world.
Centurions are a worldwide community of race walkers who have completed a 100 mile race in 24 hours
Centurion 100 mile races now take place every year in Africa, Australia, New Zealand, Holland, the US as well as the UK and e
ach country has its own unique award which many race walkers strive to gain...
read on
...
A Centurion 100 mile race can only be described as the ultimate test of physical and mental endurance
and whether you succeed or not in your race, you will meet an amazing bunch of walkers who will happily share their experiences plus many survival tips!
No matter which country or continent you compete in, the camaradie amongst the walkers is something which will last a lifetime.
Completing a Centurion event can also be described as an epic experience
!

so do come and join in !
what is a Centurion?
Well, its all about (race) walking 100 miles in 24 hours! ... and yes, it it can be achieved.
The official athletic definition is:
"A Centurion is an amateur athlete who has walked 100 miles within 24 hours in a judged competition"
so the rules to qualify as a Centurion are "really quite simple" -
just walk 100 miles in 24 hours in accordance with the Centurions and national racewalking rules.
we have plenty of information on our website about the Centurions plus everything you need to know how to become one.
So do t
ake the challenge!
Well, it's an athletic event with races from 5km up to multi day events. The
Olympic Games
hosts
20km and 50km races and there are races held at the Common
wealth Games, World, European and Masters Championship races.
Race walking is
defined as a "technical" sport under IAAF rules:"...a progression of steps so taken that the walker makes contact with the ground..."
At race walking events there are qualified race walking judges to ensure that athletes comply with the rules.
Here's how to find out all you need to know about the sport... the rules, the judging system... and much more
Training FAQs and e
verything you need to know about training for a 100 mile/24 hour race
from the experts!
plus lots of tips on what to wear ... what
to eat, drink... and lots more about nutrition to sustain you during a 24 hours race..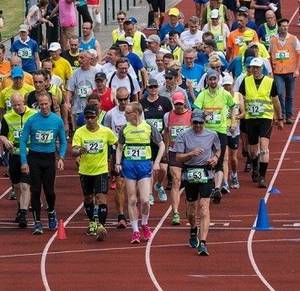 France has traditionally been the "home" of 24 hours - specifically for races where athletes can qualify for the famous Paris Alsace multi-day race - so several races to explore on this particular circuit!
However, there are also many races to choose from a
round the world: some are races for ultra runners,
but there are races which do incorporate a walking event,
some of which are judged by qualilfied race walking judges...
don't fancy a 24 hour race?
Some walkers just don't stop at 100 miles/24 hour races... oh yes, there are more challenges out there! F
rom 6 hours, 12 hours to 6 days and longer...
Classic races from the Parish Walk (85 miles) on the Isle of Man, the Paris Alsace (France) 300km and so much more....
Centurions Worldwide Community